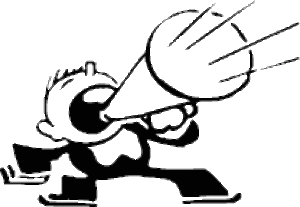 Let me share with you three quotes I've read in the last week about customer service:
'Making customer service key to your organisation will keep your employees motivated and your customers happy.'

'A successful business must never lose its focus on its customers and its standards.'
'Rather than viewing customer service as a cost centre, it is more helpful to see it as a means of keeping your customers coming back for more, and also of bringing in new business.'
These are all wise pieces of advice for any business, and they all come from one source: Richard Branson, founder of Virgin Group, a company which enjoys a good reputation for customer service. Sadly, my own recent experience of one of the Virgin Group companies fell a long way short of this (several thousand air miles), but that's another story. However, that experience and these quotes have made me more aware than ever that how you treat your customers will leave a lasting impression.
So while it's true that a bad customer service experience will tend to linger in the memory longer than a good one, it's also true that an outstanding customer service experience will also leave a lasting impression a customer will want to tell all their friends about. For example, in November I was lucky enough to be on the receiving end of some first-class customer service from none other than Majestic Wine.
My husband and I have shopped at our local Majestic Wines a few times, but generally buy our wines from supermarkets and small retailers. Our interest in wine has grown recently, after a visit to vineyards in Sonoma County, California in October and, wanting to prolong the holiday mood, we decided to book a free wine tasting at Majestic Wine one Friday evening when we got back to the UK. Because we'd seen the 'free' in the title, we assumed this would be a 15-minute affair involving 3 sips of wine, a strong sales pitch and an overt expectation to buy. How wrong we were. The event lasted about 2 hours, was led by friendly, enthusiastic staff who genuinely knew their stuff and went out of their way to make the evening fun and educational. We received no less than 10 or 12 generous tastings, a selection of good quality food for a food-and-wine pairing exercise, and were at no point rushed or made to feel that the hosts were tired and wanted to get home (which they surely did – it was a particularly cold, wet Friday evening). When the event came to an end, the hosts appeared more than happy to keep the store open for a little longer to continue chatting to attendees, and to allow them another taste of wines they particularly enjoyed. As I say, there was no expectation to buy, but we were so impressed that we asked if we could buy a couple of bottles, forgetting the 6 wine minimum purchase policy. Despite this, they happily waived the policy on this occasion.
The lessons I have drawn from this, albeit as a provider of a service rather than a commodity (an important distinction), is that if you make it an easy and pleasant experience for your buyers to buy from you, they will probably be back. We certainly will. Moreover, if you convey enthusiasm for what you do, customers respond better. The wine tasting event will have been a considerable outlay for Majestic in cost terms, but the marketing investment will undoubtedly pay off. In the space of 2 hours we went from occasional customers of Majestic to brand evangelists, an accomplishment which I believe is more powerful than any other marketing tactic.
Oh, and if an 'ouch' customer service experience does happen, a measly £20 voucher when the customer has spent upwards of £600 (on, say, a long haul flight) does not say 'I'm truly sorry, we'd like you to remain a customer'. There are ways to recover from an 'ouch' experience, and that's not one of them. Just so you know. 😉